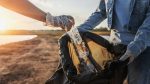 In a world where our oceans are facing an unprecedented crisis due to plastic pollution, taking immediate and sustainable action is no longer an option but a necessity. The statistics are alarming: every year, between 8 to 10 million tonnes of plastic find their way into our oceans, accounting for a staggering 80% of marine pollution. It is a global issue that demands urgent attention, as highlighted by UNESCO's Ocean Literacy Portal.
At AVI Global Plast, we are committed to addressing this pressing global challenge head-on. We recognise the need for swift and innovative action to combat ocean pollution, and that is why we have taken a proactive stance in the fight against marine litter. Our approach involves incorporating ocean-bound plastic (OBP) into our rPET packaging solutions.
Our rPET packaging is not just any packaging; it is made with up to 100% recycled content, verified by Intertek and ISCC PLUS. What's more, it includes a percentage of ocean-bound plastic, which is certified by Control Union and Zero Plastic Oceans. This means that when you choose AVI's recycled pet packaging solutions, you are choosing a sustainable option that actively contributes to reducing plastic waste in our oceans.
Uplifting Lives
But our commitment does not stop at recycled PET packaging. We understand that real change requires a holistic approach. That is why we are equally dedicated to empowering waste workers, the unsung heroes of recycling.
Globally, nearly 60% of plastic recycling is carried out by informal workers, often labouring in unsafe conditions without necessary protection and benefits. AVI is on a mission to change this narrative. We collaborate with suppliers who uphold transparent working conditions and provide documented proof of quality and safety through ISO certifications. This ensures that waste workers are not only respected but also protected.
Our partnerships with waste management agencies such as Recity Network have been a significant step in transforming how plastic waste is managed in India. By ethically sourcing plastic waste from municipal streams and these agencies, we not only contribute to economic resilience within the waste value chain but also uplift lives. We also actively collaborate with responsible and certified suppliers who share our dedication to environmental stewardship, ensuring responsible sourcing, fair payments, and no child labour, while providing conducive working conditions and health benefits to workers.
We are proud to share that our investment and partnership with Recity has been responsible for the training and upskilling of over 1,750 waste workers, offering them opportunities for entrepreneurship and alternate income. Moreover, we have facilitated legal access to waste for over 500 waste workers and linked over 150 waste pickers to social security schemes and benefits, ensuring their safety and well-being. As of 2022, we have provided life insurance coverage totalling INR 11 crore for over 300 workers.
A shared responsibility for change
We now extend a call to action to industry leaders and stakeholders. Our journey towards ocean-bound plastic reduction and waste worker empowerment is a shared responsibility. Together, we can co-design a future that not only addresses the ocean-bound plastic crisis but also transforms lives and sustains our planet.
And if yours is a conscientious brand already using rPET packaging, consider taking that extra step by incorporating ocean-bound plastic into the packaging of at least one of your products. Every small step contributes to monumental change. Why not start with just one impactful choice?
Join AVI Global Plast on our mission to protect our oceans and uplift the lives of waste workers. Together, we can turn the tide towards a brighter, more sustainable future.